FAQ - Stone Products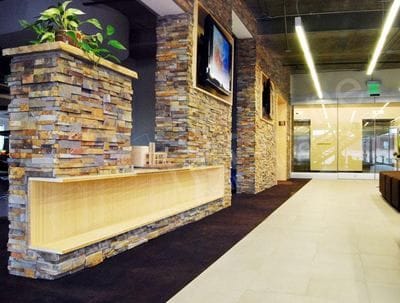 Q1: Why natural stone?
Compared to man made wall veneers, when chipped the color underneath is not consistent to the surface color making it more noticeable. When natural stone is chipped or cut, the color is almost exact, maintaining its consistency and unity. Also NORSTONE natural stone rock panels do not lose their color, texture or degrade due to age or exposure to weather.
Q2: Why NORSTONE and how do they compare to others?
Using only the highest grade natural stone stock and epoxy adhesive materials, NORSTONE rock panels are created with durability and design as the primary focus, displaying color richness and texture that are trademark only to Norstone and STAXSTONE.
Q3: What holds NORSTONE rock panels together? Our rock panels are hand crafted by select pieces of cut premium stock natural stone, which are then adhered together using only the highest quality 2-part epoxy adhesive.
Q4: Will the color of the stone fade?
No, the color of the natural stone used in our rock panels will usually be enhanced with time.
Q5: Can rock panels be used in wet areas?
Yes, Norstone can be used in or near swimming pools, water features, near beach fronts or salt spray.
Q6: Do NORSTONE rock panels stain?
Whilst our rock panels are salt attack resistant, they may be adversely affected by cleaning with acid wash or use of incorrect tile adhesive.
Q7: Are rock panels affected by cold weather?
NORSTONE rock panels can be used in subzero or freeze/thaw conditions with no adverse effect if installed correctly.
Q8: Are rock panels affected by heat? Our Rock panels can be used in extreme climates, such as 40° to 50°C or 104° to 122°F.
Q9: How are rock panels laid?
They should be laid in brick fashion i.e. they must stagger or overlap each other.
Q10: How are rock panels cut?
With a wet saw or tilers saw.
Q11: Do rock panels need sealing?
No. If a "wet" look is desired, then penetrating, but breathable acrylic sealers will achieve this.